The scientific-technical and production magazine «Mine Surveying Bulletin» issues since October, 1992.
FOUNDERS:
All-russian public organization «Union of surveyors of Russia»
PUBLISHER: Private institution the center for continuing professional education « Mining education»
THE CERTIFICATE OF REGISTRATION of mass media: №0110858 from 29.06.1993
ISSN 2073-0098
REGULARITY: every 2 months (6 times a year)
CAPACITY: 70 – 80 A4 format pages, art paper, and cover.
The magazine is a peer-reviewed publication. The editorial Board consists of authoritative representatives of science and practice in the field of mining, from them 10 doctors of technical Sciences, 2 candidates of Sciences, as well as heads and specialists of ministries and departments of natural resources unit, mining and oil and gas organizations, the scientific, design and educational organizations.
The magazine is included in the List of VAK of the Ministry of education and science of the Russian Federation on technical Sciences.
Publications in the magazine are included in the system of calculations of citation indexes for authors and journals of the RISC.
The magazine is distributed by subscription.
Subject of the journal
The «Mine surveying Bulletin» is a professional publication that provides information support to activities of surveying services and specialised organisations on the whole range of survey software development of mineral deposits and mining operations.
The magazine publishes information concerning:
– surveying and geological providing of mountain enterprises;
– normative documents and instructions on safety of mining;
– exchange of a know-how of surveyors;
– scientific researches in the field of surveying art;
– new technologies, technical equipments, software and progressive methods of receiving, conducting and storage of mountain documentation;
– legislative base of subsurface use, aspects of development of a subsoil;
– problems of social security of workers – mining specialists;
– source of raw materials of mining industry of Russia, and also world and internal markets of metals, minerals and fuel;
– geology of mineral deposits;
– geomechanics;
– subsurface use ecology;
– complex use of minerals.
History of creation of the magazine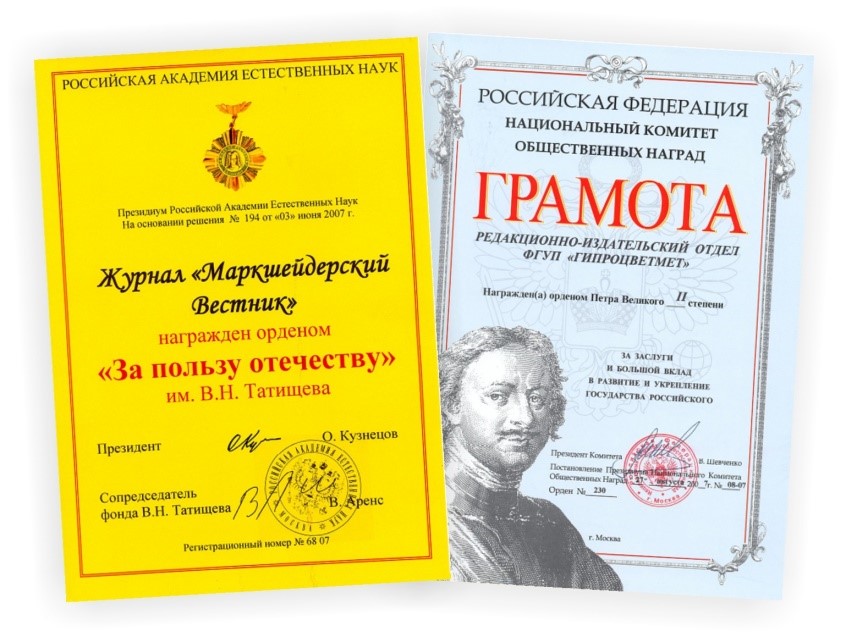 Since October, 1992 «Mine Surveying Bulletin» is the successor and continuer of the organ of surveyors in the South of Russia – «Surveying news» publication, organized by professors V. I. Bauman and P. N. Leontovsky. «Surveying news» was published from 1910 to 1921. From 1925 to 1931 he edited the journal of Professor I. P. Buhinik. Then until 1936 the magazine was issued as "CSRSB news" (Leningrad).
Today the magazine is a specialized publication uniting mining engineers, mine surveyors, geodesists, geologists and enjoying their deserved popularity and authority.
In commemoration of the 15th anniversary of the journal, the Presidium of the Russian Academy of Natural Sciences, on the basis of Decision No. 194 of June 03, 2007, awarded it the order «For Advantage to Homeland» the name of V.N. Tatishchev, and the National Committee of Public Awards of the Russian Federation - the Order of «Peter the Great» II degree «For merits and great contribution to the development and strengthening of the Russian state».